Opal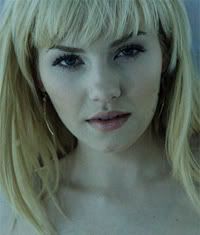 Roleplayer: Vildea
---
Date of Birth: October 14, 1980
Phase: Mencari
Gift: Dreamwalking
Calling: Bonded's
Pack: Kahlite
Rank: Kappa
Originally born Melody Hall, Opal doesn't answer to her real name anymore and hasn't used it after she
Turned
, some, like
Embla
will occasionally call her by her real name but very few know what it is. She is a
werewolf
and a
Kappa
in the
Kahlite Pack
. She's been a member ever since she was Turned.
---
Physical Appearance
Opal is a 5'8, greyish-green eyed blonde with the proper curves and shapes, all hidden safely beneath large t-shirts and jeans unless the occasion calls for her to dress otherwise. The only fuss Opal really makes about her appearance is pulling her hair up into a ponytail when she goes on patrols, other than that she's not very fussy at all, never has been. Which is probably just as good, since she lives in a world were eyeliner is hard to come by (and usually hogged by Callisto whenever it is).
A decade of being a werewolf have taught her how to hunt and fight, and though she's not the best at neither, nor the most trained, she can do pretty darned well for herself when she needs to.
---
Wolf
WIP
---
Ability
WIP
---
Relationships
Type: Unbonded
Family:
Sarah Hall - mother, deceased.
Peter Hall - father, deceased.
Joan Hall - sister, unknown, likely dead.
Gideon Hall - brother, unknown, likely dead.
Jack Hall - brother, unknown, likely dead.
Mabel Quinn - maternal grandmother, deceased.
Doyle Quinn - maternal grandfather, deceased.
Friends:
Lovers:
Enemies:
Acquaintances:
---
Personality
WIP
---
Background
WIP
page revision: 2, last edited: 22 Aug 2009 06:41